GGWP on Malaysia's No.1 network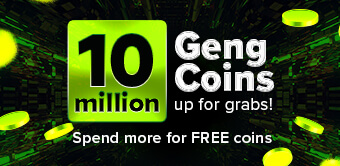 10 million Geng Coins Cashback
Enjoy your share of 10 million Geng Coins when you top up for selected game titles from Geng Gamer.
#BikinSampaiJadi with Team Secret and Team SMG
Learn from the pros to #BikinSampaiJadi with an unmatched gaming experience
#BikinSampaiJadi Caraku, Caramu | iShotz Dreams of Becoming the World Champion
Maximise your skills and talents to make your dreams a reality. This is iShotz mission to #BikinSampaiJadi the world champion with @teamsecret
#BikinSampaiJadi Caraku, Caramu | ZaimSempoi's M-Series Aspiration
There is no quitting in ZaimSempoi's battle to #BikinSampaiJadi in securing the MLBB M-Series Championship and continuing to make his family proud.
#BikinSampaiJadi Caraku, Caramu | Kid's Road to PMGC
Embrace true success to make your dreams a reality! Kid #BikinSampaiJadi and wins PUBGM's top Fragger.
#BikinSampaiJadi Caraku, Caramu | Smooth's Climb to Success
Sweet wins and bitter losses, that's the essence of all battles. No matter the outcome, keep fighting and learning from mistakes to #BikinSampaiJadi like Smooth.
Team Secret spills the tea on how to be a pro
Catch Team Secret's Seraveem and Y2K on the Hotlink Kelas #BikinSampaiJadi and find out how you can think and play like a pro gamer!
Check out these exciting gaming services and purchase game credits conveniently with your Hotlink credit!


That's not all! Check out more awesome game offers
from our exclusive partners below.

Frequently Asked Questions and Terms & Conditions
Check your FAQs
Get your questions answered.
Read more
T&Cs
Read the full terms and conditions.
Find Out More