Look forward to different prizes, every day!
Open your Hotlink app now and check out the prize of the day.
Valid from 8 March 2021 to 7 April 2021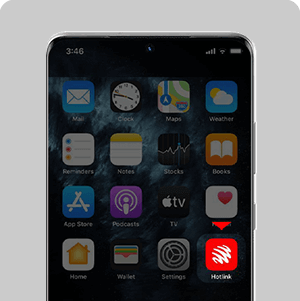 Step 1
Log in to your Hotlink app
Step 2
Click the 'Rewards' icon on the app homepage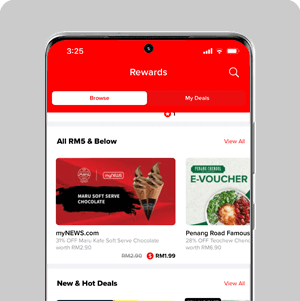 Step 3
Purchase any e-Voucher and stand to win prizes every day! Each purchase is valid for one entry only.
Check out our lucky winners here
| Date | Prize | Name |
| --- | --- | --- |
| 08/03/2021 | SAMSUNG GALAXY S21 | SIAU KONG YENG |
| 08/03/2021 | SAMSUNG GALAXY S21 | AHMAD HUSAINI BIN MOHAMAD SALEH |
| 08/03/2021 | SAMSUNG GALAXY S21 | TAM YEAP HONG @ THAM YEAP HONG |
| 09/03/2021 | RM 500 ADIDAS CASH VOUCHER | CHOW YOOK YEE |
| 09/03/2021 | RM 500 ADIDAS CASH VOUCHER | MOHD HAIRUL HISAM |
| 09/03/2021 | RM 500 ADIDAS CASH VOUCHER | SHEHZAD ALI |
| 10/03/2021 | RM 2000 LAZADA CASH VOUCHER | LEE SEU MAN |
| 10/03/2021 | RM 2000 LAZADA CASH VOUCHER | NOR HANINI BT SAMSUN BAHARUN |
| 10/03/2021 | RM 2000 LAZADA CASH VOUCHER | YEE MY TZE |
| 11/03/2021 | SAMSUNG GALAXY Tab A7 LTE | NORHIDAYAH BINTI MD SAID |
| 11/03/2021 | SAMSUNG GALAXY Tab A7 LTE | MUHAMMAD ZUL AZMI BIN IBRAHIM |
| 11/03/2021 | SAMSUNG GALAXY Tab A7 LTE | AINA FAKHIRA BINTI ARONI |
| 12/03/2021 | RM 1200 LAZADA CASH VOUCHER | FAIZAL BIN ABDULLAH |
| 12/03/2021 | RM 1200 LAZADA CASH VOUCHER | ABU DZAR BIN JOHAR |
| 12/03/2021 | RM 1200 LAZADA CASH VOUCHER | MUHAMMAD FAZELLY BIN MOHD NOOR |
| 13/03/2021 | SAMSUNG GALAXY S21 | YONG CHIN LEONG |
| 13/03/2021 | SAMSUNG GALAXY S21 | LIM PHUI PHUI |
| 13/03/2021 | SAMSUNG GALAXY S21 | HARTINA |
| 14/03/2021 | RM 500 ADIDAS CASH VOUCHER | MOHD FADIL BIN RAHMAT |
| 14/03/2021 | RM 500 ADIDAS CASH VOUCHER | MUHAMMAD ARIF BIN AZAHAR |
| 14/03/2021 | RM 500 ADIDAS CASH VOUCHER | OOI KOK AIK |
08/03/2021, SAMSUNG GALAXY S21, SIAU KONG YENG
AHMAD HUSAINI BIN MOHAMAD SALEH
TAM YEAP HONG @ THAM YEAP HONG

CHOW YOOK YEE
MOHD HAIRUL HISAM
SHEHZAD ALI
LEE SEU MAN
NOR HANINI BT SAMSUN BAHARUN
YEE MY TZE
NORHIDAYAH BINTI MD SAID
MUHAMMAD ZUL AZMI BIN IBRAHIM
AINA FAKHIRA BINTI ARONI

FAIZAL BIN ABDULLAH
ABU DZAR BIN JOHAR
MUHAMMAD FAZELLY BIN MOHD NOOR
YONG CHIN LEONG
LIM PHUI PHUI
HARTINA
MOHD FADIL BIN RAHMAT
MUHAMMAD ARIF BIN AZAHAR
OOI KOK AIK